Sweet Homestay@Perling Johor Bahru
No. 17, Jalan Utama ,Taman D Utama, Johor Bahru, Johor, Malaysia
Lihat peta
Dibuka: 2016 Sweet Homestay@Perling Johor Bahru located at Gelang Patah area. Hotel offers strategic location and convenient accessibility thus made hotel an ideal place of stay for both business and leisure travellers. whether exploring or just passing through. Offering a variety of facilities and services, the hotel provides all you need for a good night's sleep. Free Wi-Fi in all rooms, 24-hour front desk, Wi-Fi in public areas are just some of the facilities on offer. Some of the well-appointed guestrooms feature closet, towels, television LCD/plasma screen, mirror, internet access – wireless (complimentary). The hotel offers various recreational opportunities. Friendly staff, great facilities and close proximity to all that Kota Kinabalu has to offer are three great reasons you should stay at Sweet Homestay@Perling Johor Bahru
Lihat Lagi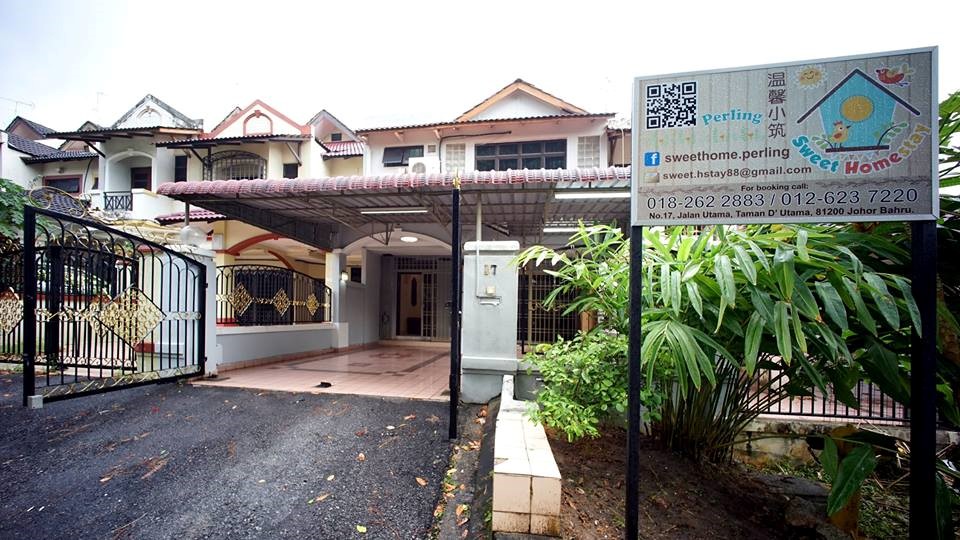 Tiada tempat menarik dalam jarak 1000m, 7.8km dari pusat bandar
Lihat Peta
Perkhidmatan ambil di lapangan terbang

Four Bedrooms Room
4 Katil double dan 2 katil queen
250m²
Semua Kemudahan
Polisi Penginapan
Daftar Masuk dan Daftar Keluar
Daftar Masuk
dari 14:00
Daftar Keluar
sebelum 12:00
Kanak-kanak dan Katil Tambahan
Kanak-kanak dialu-alukan di hotel ini. Bayaran tambahan mungkin dikenakan semasa kanak-kanak menginap di hotel dengan ibu bapa atau penjaga, sila buat pengesahan dengan pihak hotel.
Keterangan Penginapan
Dibuka: 2016
Diubah Suai: 2017
Bilangan Bilik: 10
Sweet Homestay@Perling Johor Bahru located at Gelang Patah area. Hotel offers strategic location and convenient accessibility thus made hotel an ideal place of stay for both business and leisure travellers. whether exploring or just passing through. Offering a variety of facilities and services, the hotel provides all you need for a good night's sleep. Free Wi-Fi in all rooms, 24-hour front desk, Wi-Fi in public areas are just some of the facilities on offer. Some of the well-appointed guestrooms feature closet, towels, television LCD/plasma screen, mirror, internet access – wireless (complimentary). The hotel offers various recreational opportunities. Friendly staff, great facilities and close proximity to all that Kota Kinabalu has to offer are three great reasons you should stay at Sweet Homestay@Perling Johor Bahru
Perkhidmatan & Kemudahan
Perkhidmatan ambil di lapangan terbang
Wi-Fi di kawasan awam
Perkhidmatan Pengangkutan
Perkhidmatan hantar ke lapangan terbang

Perkhidmatan ambil di lapangan terbang
Perkhidmatan Kaunter Penerimaan Tetamu
Belum jumpa penginapan yang sesuai untuk anda?