Best Western Summit Inn
9500 Niagara Falls Boulevard, Air Terjun Niagara, NY 14304, New York, Amerika Syarikat
Lihat peta
Diubah Suai: 2001 This comfortable and affordable Niagara Falls hotel offers abundant amenities and easy access to Niagara Falls, Fashion Outlet Mall and Norampac. If you love adventure and stunning scenery, this Niagara Falls hotel is perfect for you! Niagara Falls State Park, Power Vista, Maid of the Mist?, Niagara Aquarium, Seneca Niagara Casino and Beaver Island State Park are all within six miles. Travel a little further and experience the excitement of the Niagara regions many more attractions, including First Niagara Center, Kleinhans Music Hall and Shea's Theatre. Looking for retail therapy? You've landed on the right hotel. BEST WESTERN Summit Inn is just a mile from Fashion Outlets at Niagara and is 20 minutes from Boulevard Mall. With ten restaurants within two miles or less, you can easily find a fantastic place to eat. Conveniently located near many of the area's businesses and organizations, you can make the most of your business trip at this Niagara hotel. Enjoy just a short commute to Norampac, JBI, Niagara University, Niagara Falls Air Force Base and Niagara Falls Airport. We also offer business and corporate partner discounts. Play in the indoor heated pool as the sun shines through the many large windows in the pool area. Guests also delight in the many other generous amenities, including an exercise facility, a game room, 24-hour front desk, free parking, guest laundry, a 24-hour business center and much more, while staying at this Niagara Falls hotel. Unwind and get a great night's sleep in the comfortable and well-appointed rooms at this Niagara Falls hotel. Each affordable room offers cable satellite television with HBO?, free Wi-Fi, a coffee maker, additional in-room toiletries and more. Take in the breathtaking views by reserving one of our rooms with a balcony. Each morning, all guests will wake up to a filling complimentary continental breakfast. For a memorable visit in Niagara Falls, reserve a stay at BEST WESTERN Summit Inn! Enj
Lihat Lagi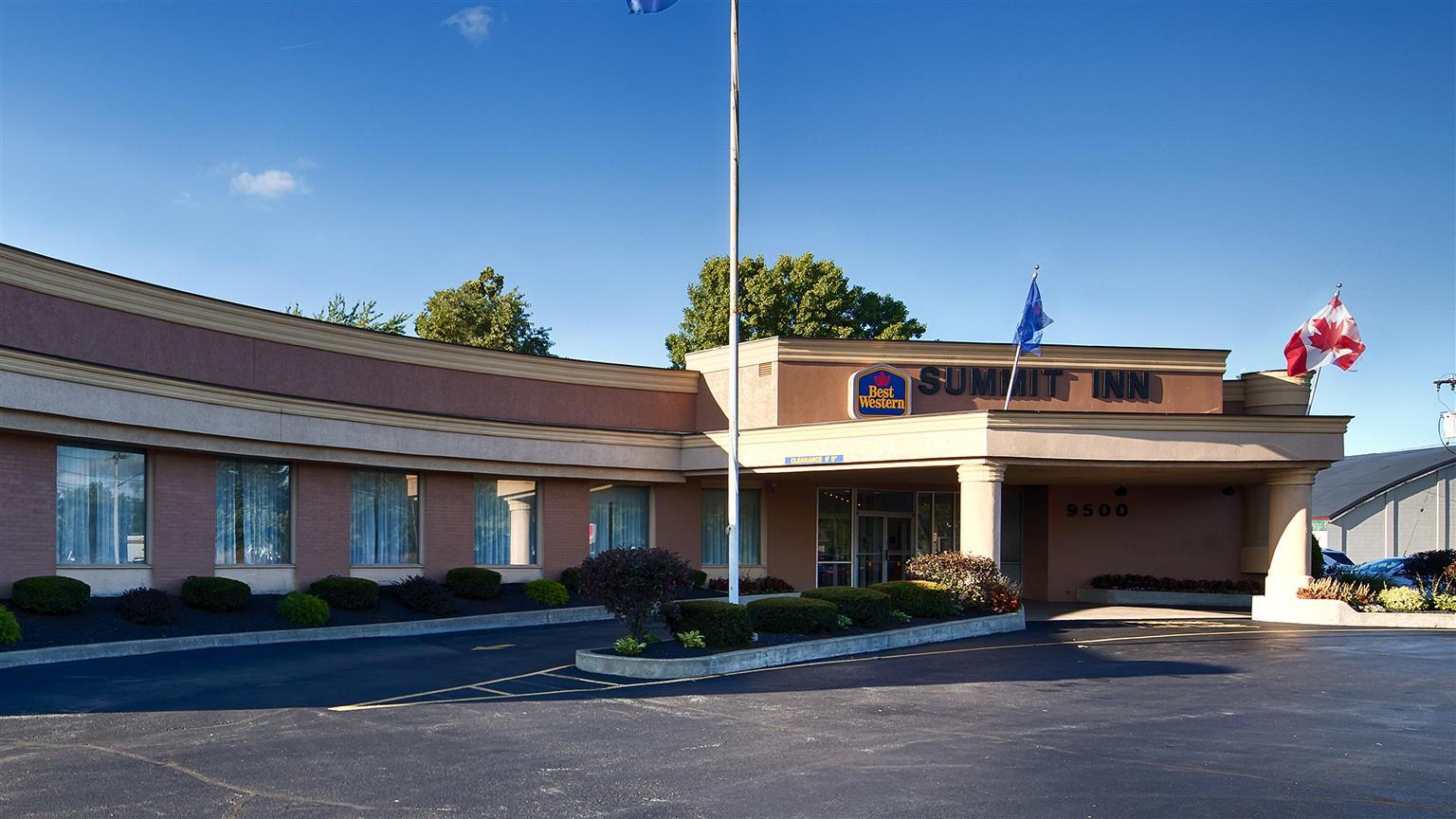 Tiada tempat menarik dalam jarak 1000m, 6.8km dari pusat bandar
Lihat Peta
Tingkat dengan larangan merokok
Kaunter penerimaan tetamu (24 jam)

2 Double Bed Room
Gambar dan Kemudahan

King Room with Sofabed
1 katil king dan 1 katil sofa
14m²
Gambar dan Kemudahan

Two Queen Room
Gambar dan Kemudahan
Polisi Hotel
Daftar Masuk dan Daftar Keluar
Daftar Masuk
dari 15:00
Daftar Keluar
sebelum 11:00
Kanak-kanak dan Katil Tambahan
Kanak-kanak dialu-alukan di hotel ini. Bayaran tambahan mungkin dikenakan semasa kanak-kanak menginap di hotel dengan ibu bapa atau penjaga, sila buat pengesahan dengan pihak hotel.
Maklumat Penting
Maklumat Bandar Yang Penting
Guests must provide a credit card when checking in. The hotel will pre-authorize your card and the pre-authorization will be released if there are no extra charges or damage to the room when checking out. Some hotels and room types have special policies, please check with the hotel for more information.
Keterangan hotel
Diubah Suai: 2001
Bilangan Bilik: 88
This comfortable and affordable Niagara Falls hotel offers abundant amenities and easy access to Niagara Falls, Fashion Outlet Mall and Norampac. If you love adventure and stunning scenery, this Niagara Falls hotel is perfect for you! Niagara Falls State Park, Power Vista, Maid of the Mist?, Niagara Aquarium, Seneca Niagara Casino and Beaver Island State Park are all within six miles. Travel a little further and experience the excitement of the Niagara regions many more attractions, including First Niagara Center, Kleinhans Music Hall and Shea's Theatre. Looking for retail therapy? You've landed on the right hotel. BEST WESTERN Summit Inn is just a mile from Fashion Outlets at Niagara and is 20 minutes from Boulevard Mall. With ten restaurants within two miles or less, you can easily find a fantastic place to eat. Conveniently located near many of the area's businesses and organizations, you can make the most of your business trip at this Niagara hotel. Enjoy just a short commute to Norampac, JBI, Niagara University, Niagara Falls Air Force Base and Niagara Falls Airport. We also offer business and corporate partner discounts. Play in the indoor heated pool as the sun shines through the many large windows in the pool area. Guests also delight in the many other generous amenities, including an exercise facility, a game room, 24-hour front desk, free parking, guest laundry, a 24-hour business center and much more, while staying at this Niagara Falls hotel. Unwind and get a great night's sleep in the comfortable and well-appointed rooms at this Niagara Falls hotel. Each affordable room offers cable satellite television with HBO?, free Wi-Fi, a coffee maker, additional in-room toiletries and more. Take in the breathtaking views by reserving one of our rooms with a balcony. Each morning, all guests will wake up to a filling complimentary continental breakfast. For a memorable visit in Niagara Falls, reserve a stay at BEST WESTERN Summit Inn! Enj
Perkhidmatan & Kemudahan
Wi-Fi di kawasan awam
Percuma
Restoran
Bar
Tingkat dengan larangan merokok
Kaunter penerimaan tetamu (24 jam)
Pusat kecergasan
Spa
Kolam renang dalaman
Sauna
Penyimpanan bagasi
Kolam renang luaran
Penjagaan bayi
Kakitangan berbilang bahasa
Perkhidmatan faks/penyalinan
Pusat perniagaan
ATM
Kesihatan & Kesejahteraan
Perkhidmatan Kaunter Penerimaan Tetamu
Peti keselamatan di kaunter penerimaan tetamu

Kaunter penerimaan tetamu (24 jam)
Perkhidmatan Pembersihan
Perkhidmatan dobi (luar kawasan)
Lain-lain
Kakitangan berbilang bahasa
Kawasan Awam
Wi-Fi di kawasan awam

Percuma

Mesin layan diri (minuman ringan)

Mesin layan diri (makanan ringan)
Perkhidmatan Perniagaan
Perkhidmatan faks/penyalinan
Umum
Bilik mesra orang kurang upaya (OKU)

Tingkat dengan larangan merokok
Belum jumpa hotel yang sesuai untuk anda?