Hilton Garden Inn Wilkes-Barre
242 Highland Park Boulevard, Wilkes Barre, PA 18702, Pennsylvania, Amerika Syarikat
Lihat peta
Dibuka: 2002 The Hilton Garden Inn Wilkes-Barre hotel is off Pennsylvania Interstate I-81 at Exit 168 in the new Township Marketplace, next to the Mohegan Sun Arena (former Wachovia Arena), and just minutes away from Mohegan Sun Casino. In the foothills of the Pennsylvania Pocono Mountains, the Hilton Garden Inn Wilkes-Barre, PA hotel is near skiing, golf, racing and white water rafting. Now featuring Garden Sleep Systema?¢ beds in both King and Queen/Queen rooms. Interested in an exciting new package? Ask about our Sunsational Players package!Deluxe accommodations, friendly service and a relaxed atmosphere await Hilton Garden Inn Wilkes-Barre, Pennsylvania hotel guests. Certain to please the busy executive or leisure traveler are our array of special amenities including complimentary high-speed Internet access, in-room hospitality center with a microwave, refrigerator and coffee maker, two dual line phones with voicemail and data ports, large work desk, ergonomic chairs, On Command?? video and games, complimentary HBO??, complimentary USA Today?? each weekday morning, indoor swimming pool, whirlpool, fitness center and a 24-hour complimentary business center with secure PrinterOn?? printing. The Hilton Garden Inn hotel in Wilkes-Barre offers 1,152 square feet of meeting and banquet space that accommodates up to 70 people. The Great American Grill?? Restaurant serves freshly prepared breakfasts. The Pavilion Pantry?? has a selection of refrigerated, frozen and microwaveable packaged items perfect for in-room preparation.The Hilton Garden Inn hotel in Wilkes-Barre, PA has easy access to I-81 putting all of Northeast Pennsylvania corporate offices, restaurants, malls and attractions within comfortable reach. Come enjoy Pennsylvania hospitality and exceptional service at the Hilton Garden Inn hotel in Wilkes-Barre, Pennsylvania.***** Everything. Right where you need it.?? *****
Lihat Lagi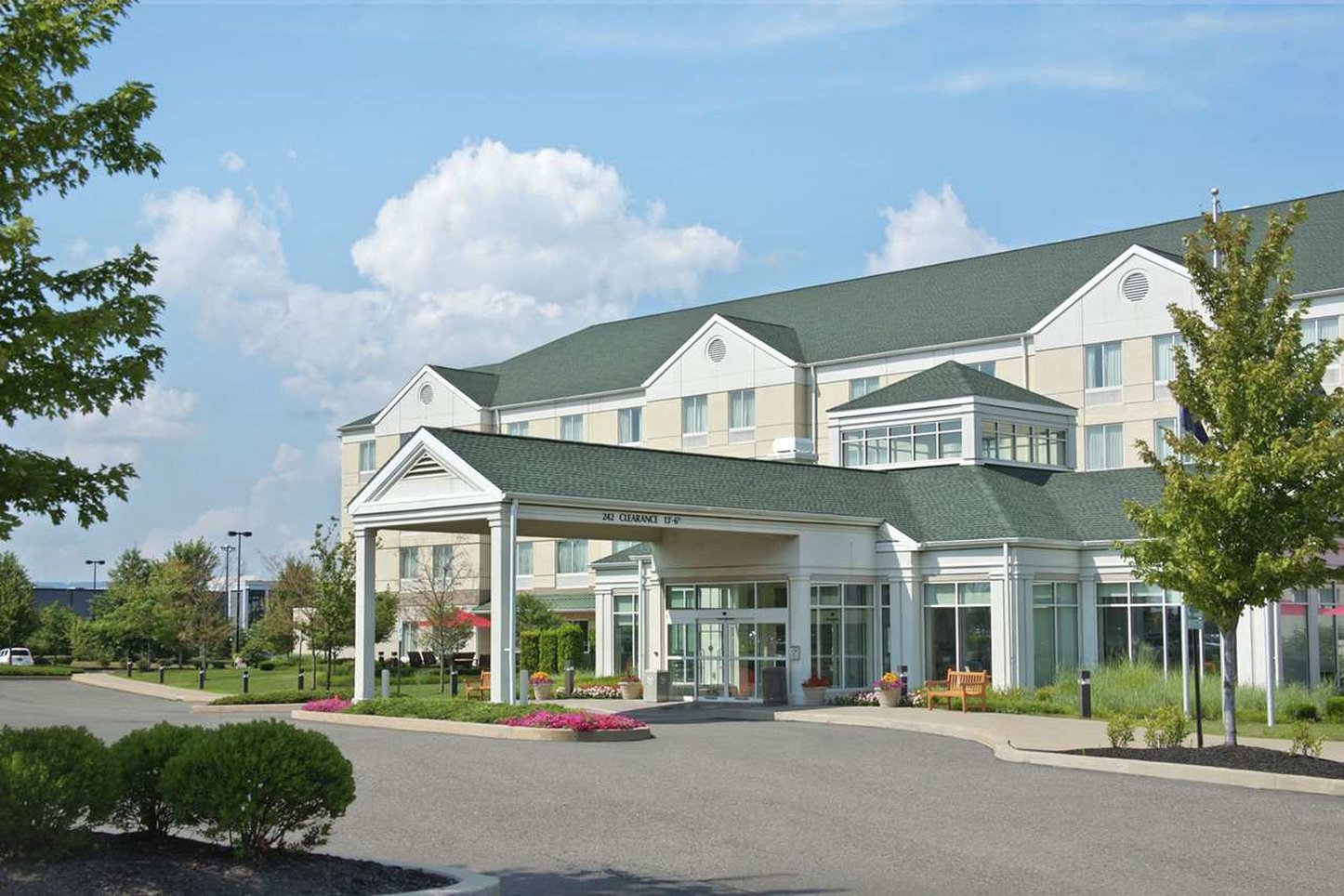 Kemudahan Yang Sangat Baik

4.3

Lokasi Yang Sangat Baik

4.3

Perkhidmatan Yang Sangat Baik

4.3
Kemudahan Yang Sangat Baik

4.3

Lokasi Yang Sangat Baik

4.3

Perkhidmatan Yang Sangat Baik

4.3
Tiada tempat menarik dalam jarak 1000m, 2.3km dari pusat bandar
Lihat Peta
Tingkat dengan larangan merokok
Kaunter penerimaan tetamu (24 jam)

King Room
Gambar dan Kemudahan

Hearing Accessible King Room
Gambar dan Kemudahan

Mobility Accessible Two Queen Room with Roll-in Shower
Gambar dan Kemudahan
Mobility Accessible Two Queen Room with Bathtub

Hearing Accessible Two Queen Room
Gambar dan Kemudahan

Two Queen Room
Gambar dan Kemudahan

Accessible King Bed Room
Gambar dan Kemudahan

Accessible 2 Queen Bed Room
Gambar dan Kemudahan
Polisi Hotel
Daftar Masuk dan Daftar Keluar
Daftar Masuk
dari 15:00
Daftar Keluar
sebelum 12:00
Kanak-kanak dan Katil Tambahan
Kanak-kanak dialu-alukan di hotel ini. Bayaran tambahan mungkin dikenakan semasa kanak-kanak menginap di hotel dengan ibu bapa atau penjaga, sila buat pengesahan dengan pihak hotel.
Maklumat Penting
Maklumat Bandar Yang Penting
Guests must provide a credit card when checking in. The hotel will pre-authorize your card and the pre-authorization will be released if there are no extra charges or damage to the room when checking out. Some hotels and room types have special policies, please check with the hotel for more information.
Keterangan hotel
Dibuka: 2002
Bilangan Bilik: 123
The Hilton Garden Inn Wilkes-Barre hotel is off Pennsylvania Interstate I-81 at Exit 168 in the new Township Marketplace, next to the Mohegan Sun Arena (former Wachovia Arena), and just minutes away from Mohegan Sun Casino. In the foothills of the Pennsylvania Pocono Mountains, the Hilton Garden Inn Wilkes-Barre, PA hotel is near skiing, golf, racing and white water rafting. Now featuring Garden Sleep Systema?¢ beds in both King and Queen/Queen rooms. Interested in an exciting new package? Ask about our Sunsational Players package!Deluxe accommodations, friendly service and a relaxed atmosphere await Hilton Garden Inn Wilkes-Barre, Pennsylvania hotel guests. Certain to please the busy executive or leisure traveler are our array of special amenities including complimentary high-speed Internet access, in-room hospitality center with a microwave, refrigerator and coffee maker, two dual line phones with voicemail and data ports, large work desk, ergonomic chairs, On Command?? video and games, complimentary HBO??, complimentary USA Today?? each weekday morning, indoor swimming pool, whirlpool, fitness center and a 24-hour complimentary business center with secure PrinterOn?? printing. The Hilton Garden Inn hotel in Wilkes-Barre offers 1,152 square feet of meeting and banquet space that accommodates up to 70 people. The Great American Grill?? Restaurant serves freshly prepared breakfasts. The Pavilion Pantry?? has a selection of refrigerated, frozen and microwaveable packaged items perfect for in-room preparation.The Hilton Garden Inn hotel in Wilkes-Barre, PA has easy access to I-81 putting all of Northeast Pennsylvania corporate offices, restaurants, malls and attractions within comfortable reach. Come enjoy Pennsylvania hospitality and exceptional service at the Hilton Garden Inn hotel in Wilkes-Barre, Pennsylvania.***** Everything. Right where you need it.?? *****
Perkhidmatan & Kemudahan
Wi-Fi di kawasan awam
Percuma
Restoran
Bar
Tingkat dengan larangan merokok
Kaunter penerimaan tetamu (24 jam)
Panggilan bangun
Pusat kecergasan
Kolam renang dalaman
Penyimpanan bagasi
Salon kecantikan
Bilik mesyuarat
Penjagaan bayi
Perkhidmatan faks/penyalinan
Pusat perniagaan
Perkhidmatan Pengangkutan
Bas ulang-alik pelancong

Percuma
Kesihatan & Kesejahteraan
Perkhidmatan Kaunter Penerimaan Tetamu
Peti keselamatan di kaunter penerimaan tetamu

Perkhidmatan tiket tempat tarikan

Daftar masuk/keluar ekspres

Kaunter penerimaan tetamu (24 jam)

Daftar masuk/keluar peribadi
Perkhidmatan Pembersihan
Perkhidmatan dobi (luar kawasan)
Kawasan Awam
Wi-Fi di kawasan awam

Percuma
Perkhidmatan Perniagaan
Perkhidmatan faks/penyalinan
Umum
Bilik mesra orang kurang upaya (OKU)

Tingkat dengan larangan merokok
Belum jumpa hotel yang sesuai untuk anda?