Sabrina 81 Hotel
Jalan Jendral Sudirman No 420, Pekanbaru, Riau, Indonesia
Lihat peta
note: hotel was previously named Wisma 81LocationSabrina 81 Hotel is a hotel in a good neighborhood, which is located at Marpoyan Damai.The hotel has a very good location, also near the Sultan Syarif Kasim II Airport (PKU), which is only 5.24 km away.Not only well positioned, but Sabrina 81 Hotel is also one of hotels near the following Riau University within 0.68 km and Museum Sang Nila Utama within 1.54 km.About Sabrina 81 HotelFor you, travelers who wish to travel comfortably on a budget, Sabrina 81 Hotel is the perfect place to stay that provides decent facilities as well as great services.Sabrina 81 Hotel is the right choice for you who are looking for affordable accommodation in Marpoyan Damai.24-hours front desk is available to serve you, from check-in to check-out, or any assistance you need. Should you desire more, do not hesitate to ask the front desk, we are always ready to accommodate you. WiFi is available within public areas of the property to help you to stay connected w
Lihat Lagi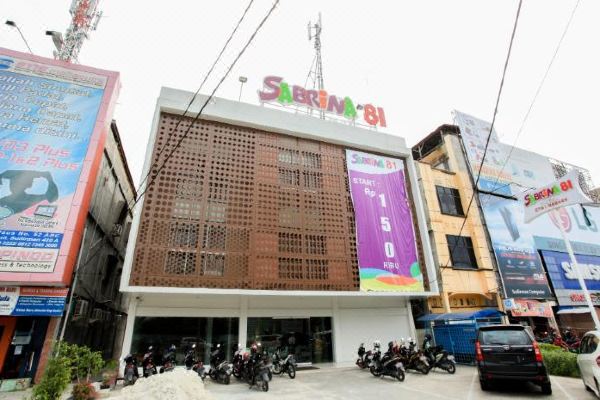 Tiada tempat menarik dalam jarak 1000m, 2.9km dari pusat bandar
Lihat Peta

Bilik Superior
Semua Kemudahan
Polisi Penginapan
Daftar Masuk dan Daftar Keluar
Daftar Masuk
dari 14:00
Daftar Keluar
sebelum 12:00
Kanak-kanak dan Katil Tambahan
Tidak dibenarkan membawa kanak-kanak menginap di hotel ini.
Keterangan Penginapan
note: hotel was previously named Wisma 81LocationSabrina 81 Hotel is a hotel in a good neighborhood, which is located at Marpoyan Damai.The hotel has a very good location, also near the Sultan Syarif Kasim II Airport (PKU), which is only 5.24 km away.Not only well positioned, but Sabrina 81 Hotel is also one of hotels near the following Riau University within 0.68 km and Museum Sang Nila Utama within 1.54 km.About Sabrina 81 HotelFor you, travelers who wish to travel comfortably on a budget, Sabrina 81 Hotel is the perfect place to stay that provides decent facilities as well as great services.Sabrina 81 Hotel is the right choice for you who are looking for affordable accommodation in Marpoyan Damai.24-hours front desk is available to serve you, from check-in to check-out, or any assistance you need. Should you desire more, do not hesitate to ask the front desk, we are always ready to accommodate you. WiFi is available within public areas of the property to help you to stay connected w
Perkhidmatan & Kemudahan
Kawasan Awam
Kawasan rehat untuk pelawat
Belum jumpa penginapan yang sesuai untuk anda?